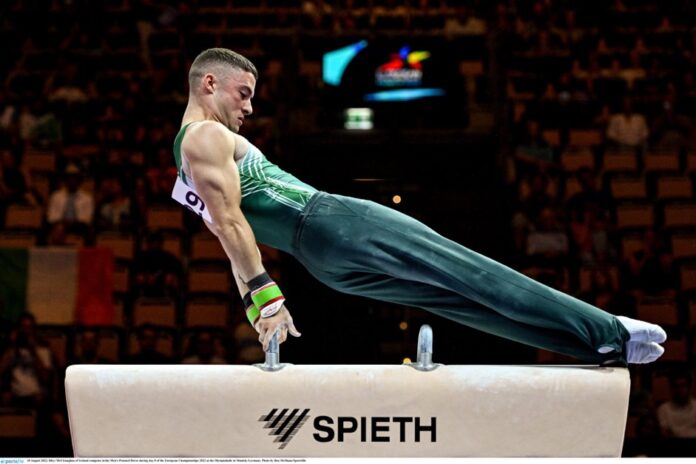 Team Ireland's McClenaghan has won silver on the pommel horse final today after scoring 15.033 at the 2023 FIG Apparatus World Cup in Doha.
McClenaghan wins Silver at Doha World Cup… https://t.co/UQRIaUnss0 pic.twitter.com/O1jN860V3s

— Gymnastics Ireland (@GymnasticsIre) March 3, 2023
Teammates Adam Steele, Dominick Cunningham, Eamon Montgomery and Halle Hilton concluded their apparatus qualifiers Thursday with Hilton making first reserve for the beam final tomorrow afternoon.
Speaking from Doha, Gymnastics Ireland's National Coach, Luke Carson said: "It was a good routine, his best one of the year, so that's good. At each competition he has demonstrated an improvement from the previous routine, so at this early stage in the competition season that's excellent to see. Going into Baku we will focus on difficulty and improving execution. It was a very high standard competition, a high standard final today, so it's excellent to be on the podium…"
Gymnastics Ireland's Performance and Technical Manager Sally Johnson added: "Well done to Rhys on his silver medal! Great result ahead of the Baku World Cup and well done to Luke for his hard work also"
Commenting on today's final Gymnastics Ireland's CEO Ciaran Gallagher said: "Great to see Rhys back on the podium out at the 2023 World Cup in Doha, the 2nd stop on the circuit for our guys! Important points banked for Worlds qualifications again ahead of the last stop on the circuit in Baku and before European Championships in April! Great work from all our gymnasts and of course coaches, judges and athlete support team out on the circuit so far!'
Next up is the last World Cup of this series where the Irish Artistic Gymnastics Team will compete from 9th to 12th March in Baku, Azerbaijan.
For more exciting gymnastics news follow us on Twitter, Facebook for live updates and photos of the competition by searching for @GymnasticsIre #GymasticsIreland #Sportstartshere
LiveScores Now Available at IrishScores.com