Switzerland won the Aga Khan Trophy at the Dublin Horse Show this afternoon.
In an exceptional display by the pre-competition favourites and first-ever winners of the famous trophy in 1926, they produced two double clear rounds, and six clear rounds in total, as they ended the two-round Nations Cup on a zero score.
Last year's winners, Ireland, who had been given a 20% win chance by Equiratings this morning, finished as runners-up on 12 faults in their attempt to successfully defend their title. The home nation has a total of three clear rounds during the class, and their anchor Shane Sweetnam and James Khan Cruz did not jump as it would not have changed their overall finishing position.
The 2018 winners Mexico took the final position on the podium on 16 faults, followed by France on 20, Belgium on 21, The Netherlands on 24, Spain on 28 and Britain on a final score of 57 faults.
Round One
Ireland ended the opening round of the Longines FEI Nations Cup with 8 faults, the same score as 27-time Aga Khan Trophy winners Britain, and France, with the favourites Switzerland – given a 25% win chance by Equiratings – holding a two-fence lead on a zero score.
Irish pathfinder and one of two Aga Khan Trophy debutants, Michael Duffy and Cinca had four faults at the water as did the second-line combination of the other first-timer on the Aga Khan team Mikey Pender and HHS Calais.
Cian O'Connor, the rider with most Aga Khan starts and podium finishes in the last 10 editions, and Eve d'Ouilly, were the third Irish combination into the Main Arena. They also had four faults, this time knocking a pole in the final part of the triple combination.
Kanturk's Shane Sweetnam and the Irish Sport Horse James Kann Cruz brought Michael Blake's side back into contention with a clear round in front of a packed and nervous crowd.
Switzerland achieved three clear rounds through Steve Guerdat (Venard de Cerisy), Martin Fuchs (Leone Jei) and Edouard Schmitz (Garmin Van'T Naastveldhof), meaning their four faults score from Bryan Balsiger and Chelsea Z became their discard score.
The water caused some problems during the opening round with a total of five combinations incurring faults there. The penultimate fence, the Telecom post boxes with a Liverpool underneath, saw nine participants knock a pole.
Britain and France joined Ireland in joint-second place at the end of the first round – with the three teams on 8 faults.
Belgium and Spain were next, a fence behind, with Mexico on 16 faults and The Netherlands bringing up the rear on 20 faults.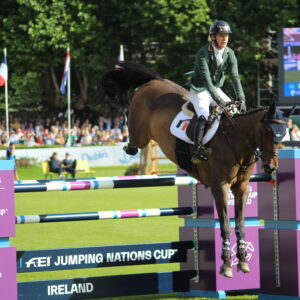 Round Two
The Swiss took up where they had ended the first round with each of their first three combinations all going clear. Steve Guerdat and Venard De Cerisy as well as Martin Fuchs and Leone JEI achieved exceptional double clear rounds, while second-line rider Bryan Balsiger and Chelsea Z, who faulted in the first round, went better at his second attempt.
With Fuchs' second clear the Swiss were uncatchable, meaning their final-line rider Edouard Schmitz didn't jump.
Course builder Alan Wade later described it as "poetry in motion watching them jump clear after clear."
Michael Duffy and Cinca got Ireland off to the best possible start in the second round, going clear in 70.96 seconds. Mikey Pender and HHS Calais matched their four-fault first round, before Cian O'Connor riding Eve D'Ouilly produced a faultless round.
Shane Sweetnam and James Kann Cruz then withdrew as they were safe in the runners-up position, and unable to catch chef d'équipe Michel Sorg's side.
Switzerland have won the Aga Khan Cup at the RDS, while Ireland finished as the runners-up with Mexico in third place. #RTEsport pic.twitter.com/5cLLC3ZUmR

— RTÉ Sport (@RTEsport) August 11, 2023
"It's very special to stand on the podium; it's an amazing arena," admitted Sorg. "It's a dream of everybody to win this Aga Khan Trophy. It's been a while."
Statistical information kindly provided by Equiratings.
LiveScores Now Available at IrishScores.com