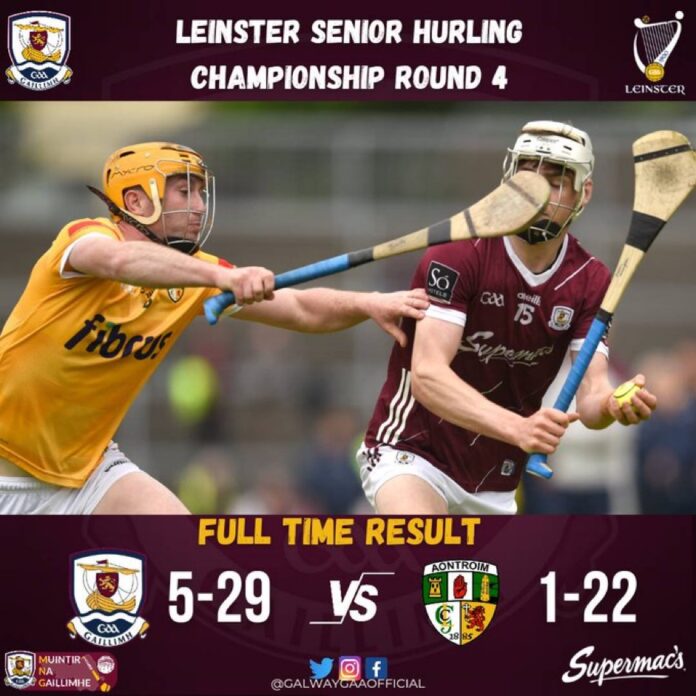 Galway Hurlers Secure Impressive Victory Over Antrim in Leinster Hurling Championship
Galway 5-29 Antrim 1-22
The Galway hurling team, led by coach Henry Shefflin, showcased their commitment to developing the depth of their panel in a satisfying victory over Antrim in the Leinster hurling championship. Despite facing early setbacks, Galway remained composed and went on to secure a commanding win in Salthill. The combination of experienced players and emerging talents proved instrumental for the maroon and white outfit, who held a comfortable lead of 2-15 to 1-7 at halftime.
Galway's Resilience and Dominance
Galway began the match facing adversity as key players Cathal Mannion and Fintan Burke were forced off the field due to injuries. Adding to their challenges, Antrim managed to score an early goal from a Conal Cunning penalty. However, Galway refused to be deterred and quickly regained their composure, steadily pulling ahead to take a 0-9 to 1-2 lead by the 18th minute. Pádraic Mannion played a prominent role, contributing two long-range points, while Conor Cooney showcased exceptional leadership and accuracy in attack, scoring seven points from play. The skillful combination of established and emerging players allowed Galway to maintain control of the game.
Crucial Goals Secure Galway's Lead
Galway's determination was rewarded with crucial goals that further solidified their dominance. Conor Whelan displayed quick reflexes and gathered the sliotar after Ronan Glennon's shot hit the woodwork, resulting in Galway's first goal. Whelan struck again just before halftime, securing a second goal and giving Galway a comfortable 2-15 to 1-7 advantage heading into the break. The clinical finishing by Whelan and his teammates highlighted Galway's ability to capitalize on opportunities and put pressure on the opposition.
Continued Brilliance in the Second Half
The second half saw Galway maintain their momentum, with Conor Cooney continuing to impress with his precision in attack. Kevin Cooney also made a significant contribution, scoring a delightful goal in the 41st minute. Antrim, led by James McNaughton, showed resilience and managed to score some impressive long-range points. However, Galway remained relentless in their pursuit of victory. In the 47th minute, Conor Cooney orchestrated an opportunity for substitute Tom Monaghan, who delivered a blistering finish to score Galway's fourth goal. The promising Liam Collins, another substitute, added to Galway's tally with a goal in the 56th minute. These goals effectively put the game out of Antrim's reach.
Looking Ahead and Key Scorers
Galway's commanding performance sets the stage for an intriguing clash against Dublin at Croke Park next Sunday. This match, managed by Micheál Donoghue, will undoubtedly provide valuable insights into Galway's form and potential. Galway's impressive scoring ability was on full display, as they registered a total of 5-29 from 50 shots. Notable scorers for Galway included Evan Niland with 0-8 points, Conor Cooney with 0-7 points, Conor Whelan with 2-0 goals, and Kevin Cooney and Tom Monaghan with 1-2 each. Declan McLoughlin also made a valuable contribution with 0-4 points. Galway's diverse range of scorers exemplified their strength as a team.
LiveScores Now Available at IrishScores.com