The latest installment of the western rivalry between Galway and Mayo ended in a thrilling draw, as Ryan O'Donoghue struck a stunning equalizer with the last kick of the game. As the clock ticked down, the Tribesmen looked poised to repeat their championship victory of last summer, only to be denied by O'Donoghue's heroics. With a crowd of 13,654 onlookers, the young Mayo team, led by Kevin McStay, put up a relentless fight to level the score.
In the end, O'Donoghue's seven-point performance proved to be the difference maker, as he secured a share of the spoils for Mayo in the sixth minute of added time. The result marks the first time since November 1997 that the two sides have finished deadlocked in a league match.
At half-time, Galway held a 1-05 to 1-03 lead, having opened the scoring through Damien Comer and securing a lead through a goal by Matthew Tierney. However, Mayo quickly retook the lead with a spectacular goal by James Carr and further points from O'Donoghue and others. Despite several missed scoring opportunities from Mayo and struggles for Galway against Mayo's inexperienced defense, the game remained an intense back-and-forth battle.
In the second half, Mayo jumped ahead with three unanswered points, only for Galway to reclaim the lead with a goal from Seán Kelly. However, O'Donoghue's late equalizer ensured a thrilling conclusion to the match, leaving the western rivalry still very much alive.
Galway
led
by
one
goal
at
halftime,
1-05
to
1-03,
after
Damien
Comer
opened
the
scoring
and
Matthew
Tierney
secured
the
lead.
Mayo
quickly
retook
the
lead,
thanks
to
a
spectacular
goal
by
James
Carr
and
points
from
O'Donoghue
and
others.
Despite
Mayo's
missed
scoring
chances
and
Galway's
struggles
against
Mayo's
inexperienced
defence,
the
game
remained
an
intense
back-and-forth
battle.
Mayo
took
the
lead
with
three
unanswered
points
in
the
second
half,
only
for
Galway
to
reclaim
the
lead
with
a
goal
from
Seán
Kelly.
However,
O'Donoghue's
late
equaliser
ensured
a
thrilling
finish
to
the
match,
keeping
the
western
rivalry
alive.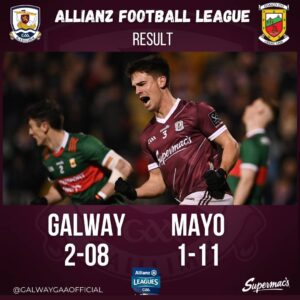 LiveScores Now Available at IrishScores.com