Throughout history, there have been a vast array of good Irish rugby union players. But, while many fall into the category of being good, some were a level above and deemed great, while others have been labelled as icons and legends. And for anyone in two minds over who makes the cut, we have a list of the greatest rugby union stars who hail from Ireland below.
Johnny Sexton
We will kick off this list by mentioning a player who is still active, and that
'
s Johnny Sexton. The thirty-seven-year-old, who currently plies his trade for Leinster, is a world-renowned fly half, and when he
'
s on the pitch, it
'
s certainly worth checking out the
R
ugby
U
nion match betting odds
. Sexton is in his second spell with Leinster, with a stint at Racing 92 sandwiched in between, and he
'
s racked up over two hundred senior club appearances, over one hundred caps for his country and thousands of points in the process.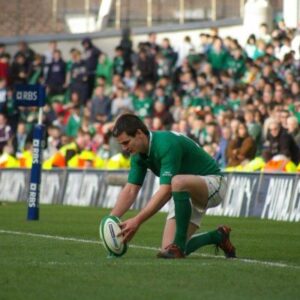 Brian O

'

Driscoll
In the eyes of a lot of people, Brian O'Driscoll is the greatest ever rugby player to come out of Ireland, and possibly the greatest ever sportsman too. It's quite the tag but one that O'Driscoll earned as a professional in a career that spanned sixteen years, in which he only turned out for Leinster at club level. One hundred and eighty-six appearances led to three hundred and eleven points between 1999 and 2014 for the outside centre, and his achievements for Ireland and the British and Irish Lions remain unmatched.
Paul O

'

Connell
Some great Irish rugby players had all the ability in the world, but Paul O'Connell had the ability combined with fantastic leadership qualities, which helped him stand out globally for Munster between 2001 and 2015 and Ireland from 2002 to 2015. The lock, who made close to one hundred and eighty appearances for Ireland, was a huge fan favourite and the man that took over the reins when O'Driscoll's time with his country was over. While hampered by injuries, O'Connell goes down in history as one of the greats.
Keith Wood
We're going to wrap up this list with Keith Wood, not only because like the three who went before him are greats, but because he brought a uniqueness to the table. Wood, who starred for Munster and Harlequins between 1999 and 2000, and 2000 and 2003, respectively, was fast and agile, but alongside that, he had an incredibly high work rate. There aren't many Irish players named World Rugby Player of the Year, but it was a feat achieved by Wood in 2001, and rightly so.
When you talk about greats, you're usually talking about players from the past, which is primarily the case with Irish rugby union stars. However, with Sexton still playing, it will be interesting to see in a few years if any other players have made that jump from being good to great
LiveScores Now Available at IrishScores.com